Parent's everywhere may be at their breaking point right now with everyone at home and the stress of feeding kids, homeschooling, and working. Feeding kids balanced and healthy meals are always a challenge but more so now than ever. We had a great child nutrition class (link) where we discussed several tips and tricks for feeding everyone well.
     I love www.kidseatright.org and www.choosemyplate.gov websites. They are great resources for meal planning and have a lot of resources and recipes. Many of my tips and tricks come from these two websites.
     I think the first thing to understand is how much a child should be eating. I used a 5-year-old boy for my example. According to the USDA food patterns, this child should be getting on average 1400 calories with the following food breakdown.
5 cups fruit
5 cups vegetables

1 cup dark green vegetables per week
3 cups red/orange vegetables per week
5 cups legumes per week
5 cups starchy vegetables per week
5 "your choice" vegetables

5 oz grains (aim for 1/2 of these to be whole grain)
4 oz protein (seafood, meat, poultry, eggs, nuts, seafood, soy)
5 cups dairy
12 grams oils/fats
This would look roughly like the plate below.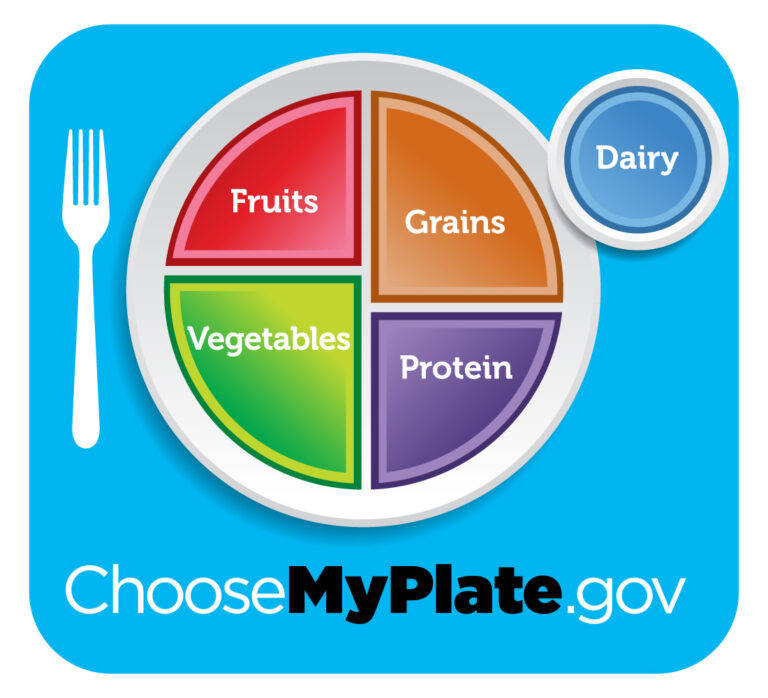 I love the plate method because it is visual. Rather than get overwhelmed by the nitty gritty details of what kids should be eating, try to remember to give them a quarter plate of fruit, vegetable, grains, and protein per meal with a serving of dairy. 
     When it comes to overall meal patterns, I encourage a wide variety of fruits, vegetables, grains, and proteins so that we are meeting our vitamin and minerals needs. 
     Families are busier now than ever before. We have work and school and sports and lessons on top of that. It is easy to get in a rut and slide into a fast food habit. I get it. It takes planning and effort to make family meals and that effort isn't always appreciated. However, regular family meals are shown to be a protectant against stress, depression, anxiety, and unhealthy weight gain. Kids who eat regular family meals have higher self-confidence, enhanced vocabulary skills, and score higher on academic tests. 
     I try to encourage at least three family meals a week to enjoy the benefits listed above. It also helps if these meals can be peaceful and enjoyable experiences for everyone involved (I also get the challenges involved in this). Family dinners are a great time to slow down and savor the meal. Encourage the entire family to eat mindfully and truly taste all the flavors of the meal. 
Here are some tips to plan great meals for the entire family:
Spend time plan the weekly meals and make your grocery list. You can use this meal planning worksheet. Make one grocery shopping trip and be ready to go for the week. Cut up and prep what you can ahead of busy dinner times. If the planning itself is a huge challenge, I use emeals and love their easy, weekly meal plans that come straight to my inbox weekly.
Include one food from each food group in your meal (fruit, vegetable, grain, protein, dairy).
Aim to make half your plate fruits and vegetables with a wide variety of colors, otherwise known as eating your rainbow! These can be fresh, frozen (just as nutritious as fresh), canned, or dried. Make your life a little easier and get pre-cut fresh veggies or steamable bags of frozen veggies.
Choose lean proteins (chicken, lean beef, pork, turkey, beans, and tofu) along with fish at least two times a week.
Aim to make half of your grains from whole sources like 100% whole grain or 100% whole wheat.
Kids above age two are encouraged to drink low-fat or non-fat milk.
Involve the entire family from planning to cleanup. It shouldn't just be one person's responsibility. Ask your kids what they would like to try this coming week, involve them in picking out groceries, ask them to help with cooking and table setting, and let them take ownership of clean up. It may not always be perfect but involving kids helps to get their buy-in.
Add new and adventurous fruit and vegetable side with familiar and well liked main dishes.
I encourage the one-bite rule at our house. They don't have to like it but they have to try at least one bite. Studies show that children need 15-20 exposures to foods before they may start to like something so keep the exposure coming.
Keep staples on hand (rice, pasta, beans) in your kitchen for go to meals.
When you can, prepare multiple batches of the main ingredient and freeze for later use. This saves time later. I love to make a big batch of pulled pork and freeze portions of it for tacos, salads, and enchiladas later.
Try fun cooking methods like vegetable soups, grilling vegetables, creating creative salads, and packing omelets with veggies.
     Family meals can be such an amazing time to reconnect after a long day. Remember, you as the adult are in charge of when, what, and where your family eats. Your children are in charge of deciding how much they eat. We want to keep a clear division of responsibility (See Ellen Satter's work) so that we can continue to encourage children to learn to eat intuitively and mindfully. More tips on navigating feeding challenges coming in future blogs.
     Good luck everyone! I know that family meals can oftentimes be difficult to plan and navigate but I hope that they get a little easier with these tips!
Love,
Marysa